D Series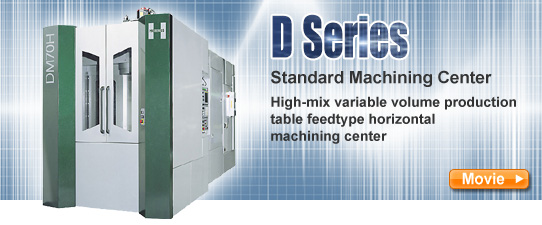 ---

Products Characteristics
---
ATC device|APC device|Automation and power-saving applications
ATC device (auto tool changer)
■Maximum tool diameter (when there is no adjacent tool) DM70H φ200mm
DM100H φ250mm
■Maximum tool length ・DM70H Z:650stroke
495mm(BT40)
560mm(HSK-A63、KM6350)
(Note: Need to confirm there is no interference with the jig, etc)
・DM70H Z:1,000stroke
595mm(BT40)
660mm(HSK-A63、KM6350)
・DM100H
520mm(BT50)
660mm(HSK-A100、KM10080)
(Note: Need to confirm there is no interference with the jig, etc)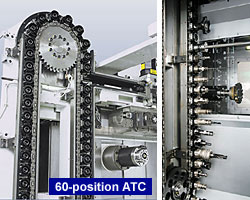 ---
Tool change override application

When using a precision tool change speed override function is provided to prevent damage when changing the tool. This feature requires the user to specify the tools which can override the tool change in advance.

APC device (auto palette changer)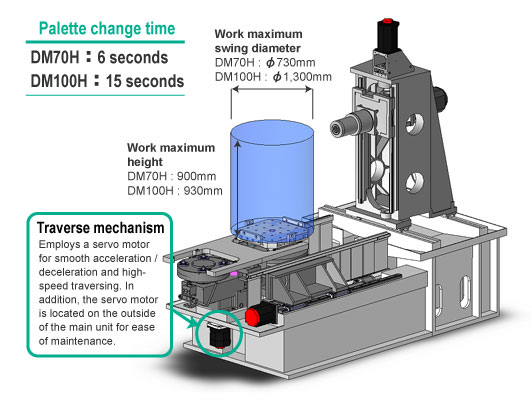 ---
Palette clamp device
Uses a double-sided clamp system to position the palette highly accurately and keep it in place. The palette positioning unit uses an internal air blower to prevent the adhesion of cutting shavings.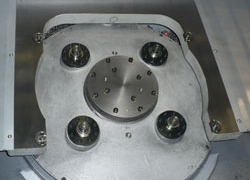 ---

Automation and power-saving applications (optional)
It is possible to run the machine through Automation for a prolonged period of time by using an endless rotary conveyor system and vertical palette stocker or other multiple palette changer (optional part)

Reference : DM100H
Endless conveyor system
Number of palettes stored 6
Palette dimensions 800mm x 800mm

Contact Us