TM70H DUO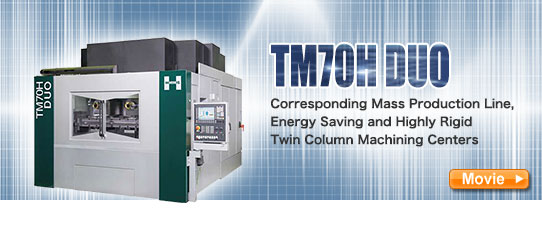 ---

Feature
■ Energy Saving・Space Saving
■ High-Rigidity and Faster Acceleration/Deceleration
■ High Operation Ratio
■ High Maintainability
■ High Flexibility
Twin-Column Structure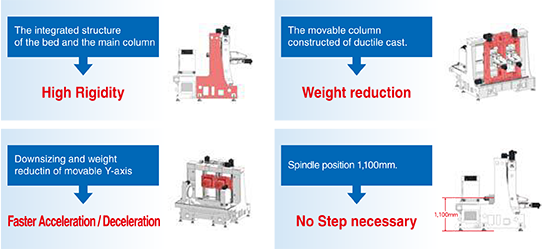 ---
High Maintainability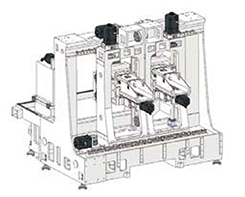 Since the drive unit is in the rear, main maintenance can be done from the rear side.
No interference like fixture made quick maintenance possible.
---
Compensatable axes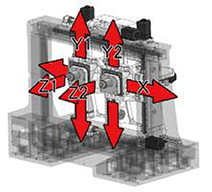 X axis : Spindle pitch adjusting mechanism
Y axis : Multi independent drive
Z axis : Multi independent drive
---

---
Specification
Item
TM70H DUO
Spindle
Diameter
φ70mm
Tool holder
HSK-A63
Spindle Pitch
700mm
Drive system
Direct connection (Coupling)
Built in Motor
Bearing lubrication systen
Oil mist
Oil mist
Max. rotation speed
12,000min-1
20,000min-1
Drive motor
10/7.5kw
28.5kw
Cutting fluid
through spindle
Coolant through spindle(MAX 7.OMpa)
★MQL
ATC
Tool change method
Direct
Tool selection method
Fixed address, shortest path tool change method
Tool storage capacity
70 x 2
Max. tool diameter
φ7Omm(φl6Omm without adjacent tool)
Max. tool length
345mm
Max. tool weight
10.0kg
Tool change time
TtoT
1.2 sec
Cto C (1/2 stroke)
2.6 sec
Feed unit
Rapid traverse rate
X axis
62m/min < 6.9m/s2 >
Y axis
62m/min < 6.9m/s2 >
Z axis
75m/min < 11.8m/s2 >
Cutting feed rate
1~10,000mm/min
Travel
X axis
650mm
Y axis
560mm
Z axis
530mm
Reference pad
X,Y,Z axis
Sliding parts
Linear guide(X・Y・Z axis)
NC Device
SINUMERIK 840D sl(SIEMENS)
Footprint (W x L)
2,950mm x 5,025mm
※★indicates options.
Contact Us